This applies to Teaching Tools, ClickBook, and Digital Student Books. It is not an option for ExperTrack assessments.
If a student forgets to submit, teachers can submit an assignment. If a student accidentally submits before completing, teachers can unsubmit an assignment.
To Force Submit
1. Locate the assignment.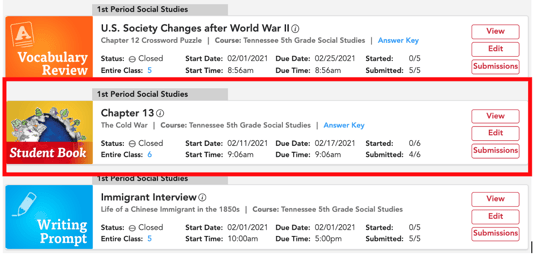 2. Open Submissions.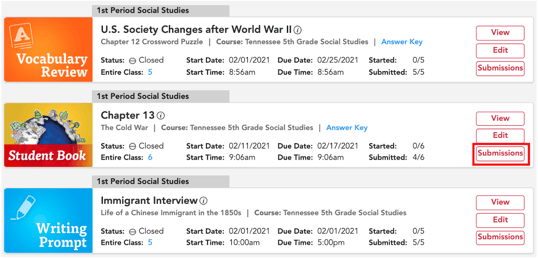 3. Locate the name of the student.
4. Select the red Submit button.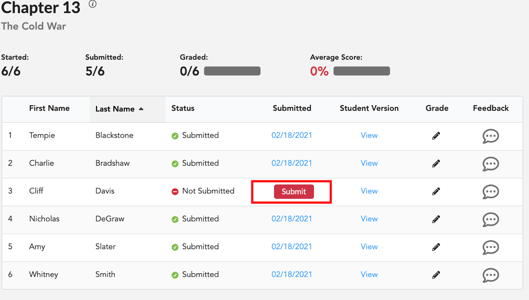 This will submit the assignment for the student.
To Unsubmit
If a student submits an assignment and then needs access to continue working on it, you have the option to Unsubmit. For students to access an unsubmitted assignment, the assignment status has to be active with a due date in the future. Please note, UNSUBMIT WILL ERASE ANY PRIOR GRADING.
1. To unsubmit, you will go into Submissions, and select the submitted date.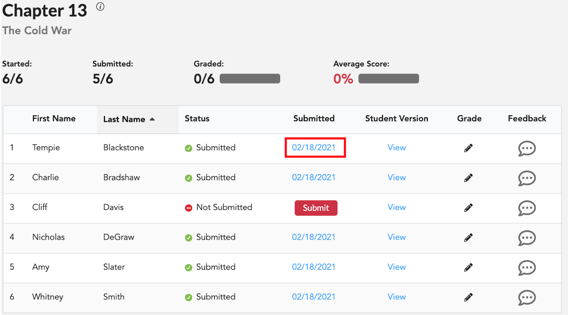 2. Once you select the date, you will see a pop-up with the option to unsubmit. Select Unsubmit.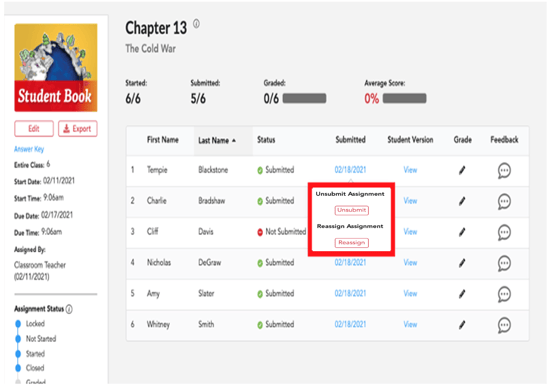 After you select Unsubmit, you will see the submit button rather than the date of submission.

Unsubmitting allows students to edit/redo any activity included in the assignment. As stated above, when a teacher unsubmits an assignment submission, all previous grading will be deleted.
To read more about the unsubmit function, click here.
If students do not complete and submit an assignment before the due date, you can extend the due date and change the status to open the assignment back up for those who did not submit. Changing the due date and status will not affect students who previously submitted. For more information regarding extending a due date, click here.