If students do not submit an assignment before the due date, you can extend the due date and change the status to open the assignment back up for those who did not submit. Changing the due date and status will not affect students who previously submitted.
To open an assignment so that students who did not submit have more time, locate the assignment, and select Edit. *Notice that only 5 out of 6 students submitted Checkpoint 11 in the image below. This article will walk through extending the due date so that the student who did not submit can do so.

After selecting edit, you will see the Assignment settings. For this assignment of Checkpoint 11, the status is closed, and the end date is 2/16/2022.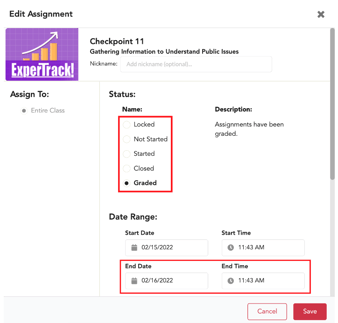 To open the assignment for the student(s) who did not submit, change the Date Range End Date to your selected date in the future. Then Save.
After saving, you will see the new due date, and the status will be Started.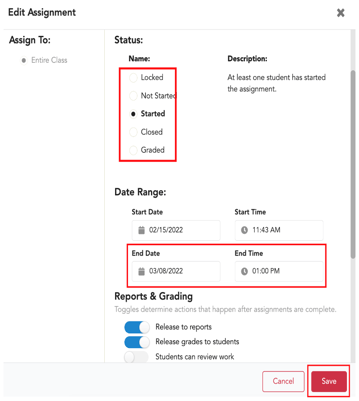 After you change the status to started and set the end date to a date in the future, students who have not submitted previously will have access to assignment until the new end date and time.
Additional Information Related to Assignment Options
*If a student completes an assignment but does not submit, teachers can submit for the student.
*If a student submits before completing an assignment or you want to give an assignment back for the student to make changes, teachers can unsubmit to return a submitted assignment to a student. Please note that Unsubmit gives the completed assignment back and allows changes to all components of the assignment. Unsubmit deletes all grading, and the first submission will not be saved. To give students a clean copy of an assignment, teachers must make a new assignment.
To see more information about how to submit or unsubmit as a teacher, click here.
To see a comparison of unsubmitting versus making a new assignment, click here.