A Quick Guide for Students, Teachers, and Administrators
While logged into your Gallopade account, you can click on the question mark icon in the upper right corner of your dashboard (as shown below) to go directly to support.gallopade.com.
Once in the support hub, you can search by typing in a keyword as shown below.
You can then go to a specific topic ( ExperTrack, Frequently Asked Questions, Updates, Clickbook).
You can also browse articles by category.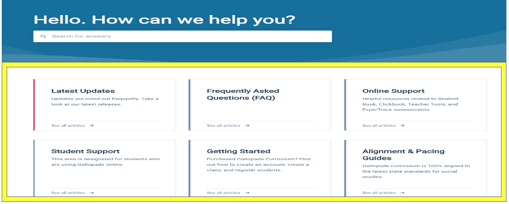 As always, if you have specific questions, concerns or support needs, you are welcome to contact us by emailing your Gallopade support specialist or by submitting a ticket using the Contact Us option in the support hub shown in the image below. We are here to help you and your students!