Clickbook due dates can be modified to extend access beyond the original due date
If the due date of an assigned Clickbook passes and students have not submitted the assignment, teachers can extend the due date to open it back up for the students who have not yet submitted.
*When the assignment is reopened, those students will ONLY be able to answer and submit answers to questions they have NOT previously submitted. Any questions previously submitted will be locked in.
*Changing the due date will not affect students who have already submitted.
Follow these steps to re-open the assignment for a student or group of students.
To edit the due date, go to Assignments and locate the Clickbook assignment.
Select Submissions.




From the submissions screen, you will see every instance of the assignment for the class.

In the Submitted column, if a student has submitted, you will see the date submitted. If a student has not submitted, you will see a submit button.
Use the first column to choose the student or students you would like to adjust the assignment dates for.

There are 3 options for selecting instances to edit.

To edit the date for the ENTIRE class, hover over the assignment number on the left.
Select, Edit for Class.

To edit the date for a single student, hover over the assignment number on the left.
Select, Edit for Student.

To edit the date for multiple students, check the box to the left of the student names. Then choose the edit button from the upper right corner.

When the edit window opens, check the box next to STATUS to change the status.

Then select NOT STARTED. This will open the assignment for any student who has started as well as any student who has not yet started.
Adjust the due date and time to reflect the new due date and time, and select Save.

You will see the new due date on the submissions screen.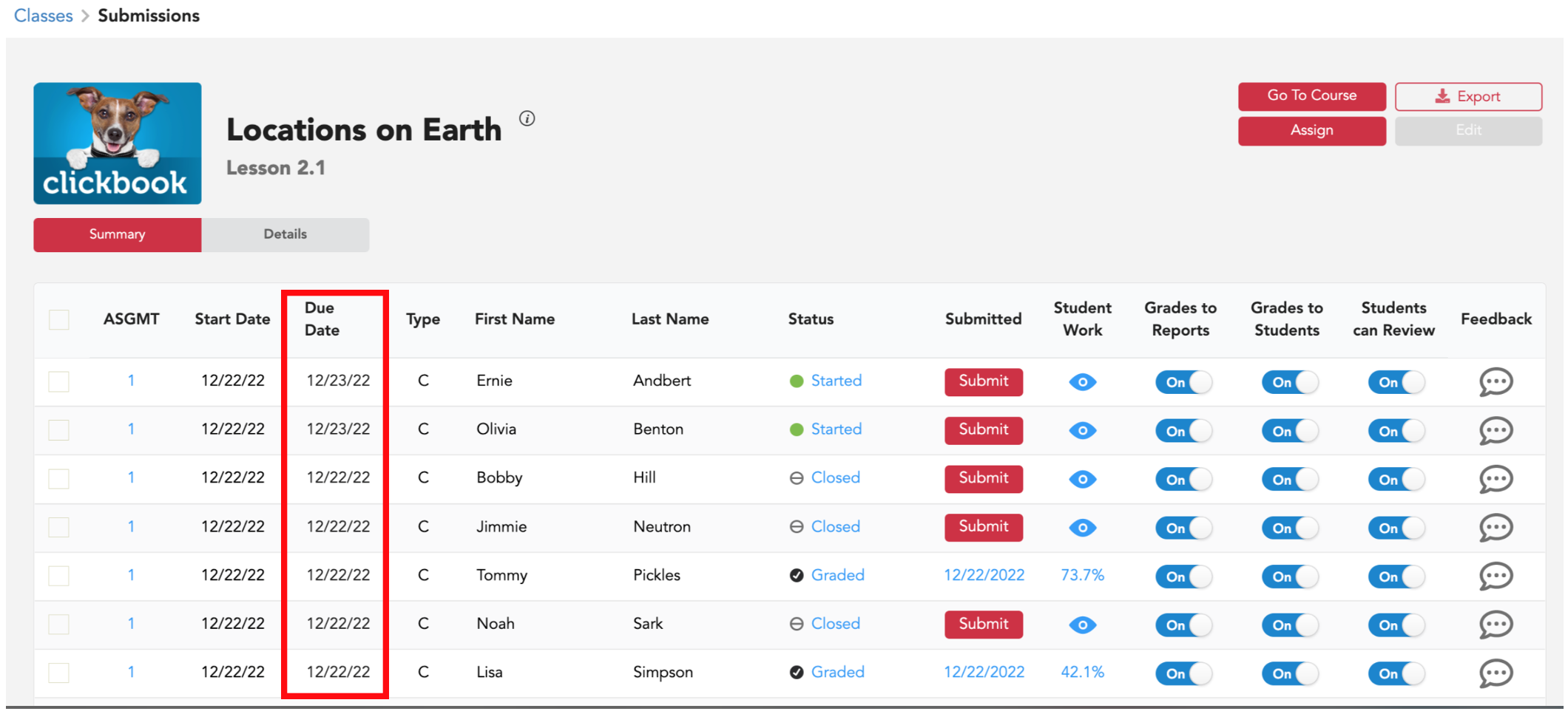 Student View After Extending the Due Date
QUESTION PREVIOUSLY SUBMITTED BEFORE DATE CHANGE (answer cannot be changed)

QUESTION NOT PREVIOUSLY SUBMITTED BEFORE DATE CHANGE (question can be answered)